Today we are excited to announce the start of our Autumn Sale which goes into effect immediately. Not only has each Founder Pack and all pack upgrades had their prices reduced, but each one has been enhanced as well, providing either additional gametime or Nithron Coins to be used towards future store items.
Supporter Packs
Now receive 30 days of Early Access
Price reduced by 25% to $14.95
Hero Packs
Now receive 100 Nithron Coins ($10 value)
Price reduced by 30% to $34.95
Legend Packs
Now receive 300 Nithron Coins ($30 value)
Price reduced by 40% to $59.95
The new Nithron Coins included now in Hero and Legend Packs will be the currency used to purchase game time, in-game services such as race changes, and eventually cosmetics when the updated store goes live in a few months before official launch. All current pack holders will have these new benefits tied to their account, with no further purchase necessary.
Visit our store to see these new offers and make sure to pick up a Founder's Pack before it is too late!
Free Trial - October 14th - 24th:
As of this post we have officially kicked-off our free trial which will last until the server maintenance of Monday, October 24th. This provides you with the chance to try out Darkfall: Rise of Agon at no cost to you, whether this is the first time you have heard of Darkfall or you are curious what has changed since Closed Beta started. Head over to our Patch Notes blog to catch up on all of the latest updates including enhancements to character progression, our new scroll crafting system, new UI and quality of life mechanics and much more!
There is also a newly launched Quick Start Guide for any of you new to the game so you can quickly learn some of the basics and have some useful links to start your journey with. Go and take a look while you download the game client, it could save your life!
Our Video Production Lead and the marketing team have also been cooking up our new "What is Darkfall: Rise of Agon?" video that is now featured on our website. Many of you may recognize the theme and music of this video from a fanmade video of old, and we wanted to capture some of those memories in a version of our own. After some searching we found the original composer, Gregory Bakay, who graciously granted us the use of his music. We would like to thank Gregory for allowing us to use his track "For the Last Time" as well as all of you in the community who helped create some of the footage used!
October Giveaway:
To celebrate our Autumn Sale and Free Trial, we are excited to announce that we have partnered with OriginPC to offer our October Giveaway. Enter for your chance to win a Lifetime Subscription or one of 20 Hero Packs, with seven different ways that you can enter.
Click here and get your name on the list before winners are decided at the conclusion of our free trial!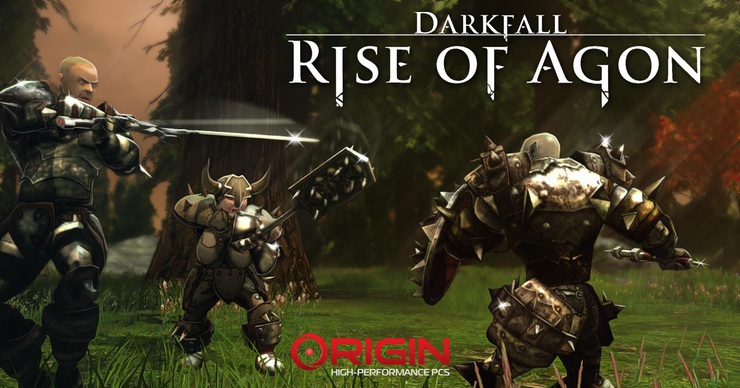 "Darkfall Stories" Video Competition Winner:
Our community video competition "Darkfall Stories" concluded last night and we would like to thank all of you that sent in a submission. We received eight total entries for the competition, all of whom have won a Founder Pack upgrade or, for those who are Legend Pack holders, an additional Legend Pack. The team loved all of the entries that we received, but with a Lifetime Subscription that was up for grabs for the individual who placed 1st, we had to decide on a winner.
Without further ado, we would like to congratulate Knar who has officially won a Lifetime Subscription for his brilliant video "Ouroboros"!
Take a look at our newly launched Community Videos section on our website to see "Ouroboros" and the rest of the competition entries.
We hope all of you have a great time over the weekend and make sure to join us in the discussion thread!
Sincerely,
- The Team at Big Picture Games