Hi everyone,
Today we wanted to provide the details for tomorrow's Twitch Q&A that we are hosting as well as give a short recap of what the team has been working on this past week.
Twitch Q&A Information
Tomorrow we will be holding our first official live stream event on our Big Picture Games Twitch channel. The event will be a live Q&A that will be hosted by Brad, the Director of Development and Michael, the Director of Marketing and Community Manager for Darkfall: Rise of Agon. We have been reviewing the questions posed in our preliminary question thread and will be providing answers to them during the event as well as answering any questions posed in the chat channel.
The event starts tomorrow, April 15th at 2 p.m. EST and will run until we have been able to answer as many questions as possible. This event will be recorded for anyone who is unable to attend and wants to watch it at a later date.
Attendees of the event will be able to post once every 60 seconds to allow us the ability to take note of the various questions being posed. We will also be moderating the chat channel closely and ask that everyone follow our Terms of Use so you do not lose the ability to attend future events.
Recap of the Week
Website Update
The website updates that we had originally scheduled for today will be going live sometime in the coming days as we still have some tasks we have to work through. The updated store page that will come with the changes will include the subscription and Nithron Coin packages available at launch. As we mentioned in our last update we will be having an "Early Bird Special" sale on all packages during the time leading up to launch for those looking for the best possible deals available on subscription time and Nithron Coin packages.
New Server Setup
Our new server hardware is currently on order and is getting set up by our supplier. Once the hardware is ready to go we will be configuring them with what is needed for launch. We plan to open up the servers for a short stress test before launch and will provide more details on this at a later date.
We also plan to open up a public test server shortly after launch to help test certain content and get feedback from our players on things we are working on.
Wilderness Portals
The development team has been hard at work placing the wilderness portals throughout the world of Agon in preparation for launch, and the system is coming along nicely. We have released a few screenshots of some of the new locations on social media already so make sure to like us on Facebook and follow us on Twitter to stay informed on what the team presents!
Task System
The mechanics of our new task system are currently on the test server, including the new user interface we teased the other day on social media. Our developer TJ put together a system for our team to be able to create new tasks to get implemented with the initial starter tasks that will be available at launch. We will be able to expand upon this system in future patches to provide new challenges for all types of players in game.
Economy Revamp
We have gone through all of the loot tables in the world of Agon and various resource faucets to review and make changes to them in our economy overhaul. Aspects such as gold output and resource drops have been more properly balanced around monster difficulty. Rare ore and mob dropped gear rates have been altered to help drive more value to mastery gear, and numerous other changes have occurred to skinning tables and what items drop where. These changes are all aimed at providing a more balanced risk vs reward to in-game items and resources, as well as drive value to various monster spawns.
Deployable Vendors
Our artist Sean has finalized the art asset that will be used for the mechanic that you can see below. As we stated in our MMORPG interview, this system may not make it in at launch but if that ends up being the case we will have it added in one of the first patches after: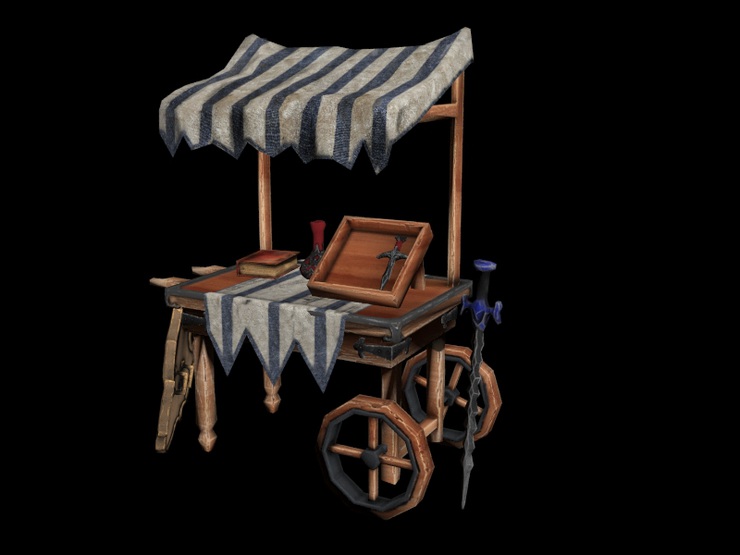 Marketing
We have been in contact with streamers who will be trying the game out at launch, and look forward to hearing their thoughts on Darkfall: Rise of Agon! We also have a few web campaigns the team has been working on, and will be releasing our launch newsletter early next week. If you have anyone you think would be a good fit to try out the game please send @MWTaylor a private message and we will add them to the list!
Referral System
We have created the mechanics behind our referral system that we alluded to in a previous update, and are currently testing the back-end of it on our test site. We will present a detailed update on how this referral system will work and are preparing for it to be ready at launch on May 5th.
We look forward to seeing you all tomorrow during the Question and Answer session and thank you for reading!
Sincerely,
- The Team at Big Picture Games