Hi everyone,
In today's Project Update we wanted to provide both an overview of the next patch and a short preview of what to expect in the first patch of the New Year. We also go over the new Account Page on our website and officially introduce our newest game developer, Jesse "Kilrath" Coles, to you in the community.


Account Page Update
We recently updated the Account Page on our official website, providing more streamlined information and a cleaner user interface. The most exciting update however is the addition of the new A Day for Game Time service that is outlined below.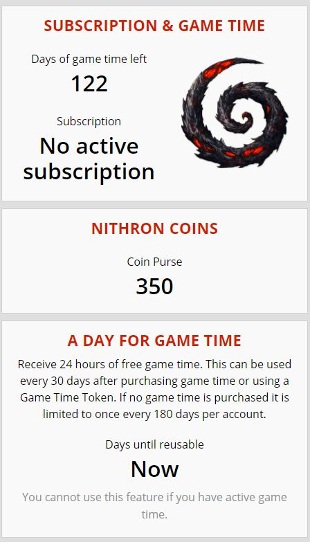 A Day for Game Time
There is a new section of the Account Page, found under the balance of your Nithron Coin purse, that provides players the ability to activate and use a free day of game time. This is to provide everyone the ability to activate their account to use Game Time Tokens or to try out recent game changes.
If no Game Time Tokens are activated, or if no game time or subscription is purchased during that time, the service becomes unavailable for 180 days. If a Game Time Token is used or if a purchase is made, the service can be used again 30 days later.
Newest Game Developer
Introducing Jesse "Kilrath" Coles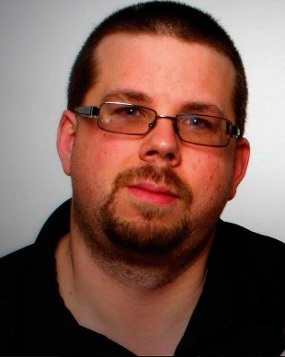 Jesse has been a great addition to the development team since joining Big Picture Games in the fall of this year. One of the more challenging things for any new developer joining the team is coming to grips with the Darkfall engine and its proprietary code, but Jesse jumped right into it and got himself up to speed rather quickly. This last patch included some of his first changes and he is already heavily involved in the Market System coming early next year.
He started programming as a hobby in 1995 making 640x480 256 Color DOS games with QBasic and Assembler. Realizing that he had a passion for coding, he ran and programmed an official MUD server and started learning PHP development. In 2014 he worked on a 2D Android game in Unity and modded for the DayZ: Epoch Platform, and then created a mod for Ark that placed top 10 in an official competition. Jesse also has a lot of experience working in UE4 Development and did work as a multi-player systems programmer for a small game firm. When he is not coding he likes to watch movies and enjoys spending time in the world of Agon.
Next Patch Overview
The next patch is scheduled to go live before the end of the year, and focuses on enhancing the experience and rewards of the Champion Spawns. Our primary goal with these spawns are to make them something that groups of players will have to take on together, and provide the kind of loot necessary to make the experience rewarding as well. The following is an overview of what to expect in this next patch. These changes are live on the public test server and we would greatly appreciate your feedback and help testing the changes to Champion Spawns.
Download the Public Test Server client: Here
Champion Spawns
There are a few key changes coming to Champion Spawns with this patch. The primary change involves the loot themselves, with the ability to unlock Sealed Treasures. These treasures have the chance to provide new rare R75 weapons that will be unique with special attributes and/or abilities. Loot from champions will now also function similar to how the new Village Capture Points function, providing a loot roll to each individual player involved with the champion to their backpack. Champions will only drop a Sealed Treasure and nothing else anymore, the sealed treasure will contain all their loot drop.
Champions themselves have been altered to prevent "insta-deaths", and the initial stages have been lengthened as well. The goal is to provide a roughly 30-60 minute fight after you start a champion spawn in order to complete the full Champion challenge, requiring groups in the range of 5-25 players. Mainland champions are designed for smaller and newer groups, 5-15 players depending on the level of characters, gear and team effectiveness. Sub continent champions are designed for 15-25 players.


Crafting Changes
Changes have been made to Engineering to provide a more fluid transition through the skill progression and strongboxes can now be made without a workbench, the gold cost of skill books and spell scrolls in scribing has been reduced by 80%. Construction level 1 also now provides players the ability to craft harvesting and repair tools anywhere and bluetail runners will be able to be crafted at level 25 taming. 


General Changes
Weight on all reagents and on meat have been greatly reduced, crafting gains have been adjusted to provide a better progression at appropriate levels, spell upgrade cost has been lowered 75%, and reagent drop rate on normal nodes has been increased and now scales upwards like the normal resources to give more the farther away from the capital cities and lawful areas you are.
Subsequent Patch Preview
The focus of our development team after the next patch will be on the start of the Territory Control dynamic building systems and Market System. This is the first major content piece that the team plans to implement in the New Year, and work is already underway on the UI, new art assets and some back-end mechanics. The goal with the Market System is to increase trade between players by making it both more accessible and convenient. Players will have the ability to both buy and sell goods, filter items by name and description, view a tree of all traded items, and sort items by area to find the best deals. We look to your feedback when we get the initial design up on the Public Test Server so that we can make sure it is as effective of a system as possible.
Community Corner
Recent Twitch Q&A
Last weekend Michael, TJ and Neil hosted a live Q&A on our official Twitch channel. For those of you who may have missed it, the video is up on our channel and available for viewing. You can find the video here. We will continue to do Q&A as we are able to with a goal of doing them once a month and talking about any issues/questions the community has and glimpse into the future of the game. Please feel free to check out our roadmap and VOTE for the things that you are most looking forward to, every active game account gets 10 votes that can be placed on one item or spread around as you please. Completed roadmap items will return the votes to an account to place on other ideas, top voted ideas will tell us what the community wants and we'll do our best to prioritize them in the patch cycles.
Thank you for reading today's update and good luck fighting our champions... you'll need it!
Sincerely,
- The Team at Big Picture Games