Happy Friday everyone!
The Autumn Free Trial, as mentioned in yesterday's update, has been extended until the server maintenance on November 1st. Seeing as Halloween is right around the corner we decided to not only extend the trial itself, but use this opportunity to activate some Halloween items we found in the dusty catacombs of the code.
We would also like to thank everyone on the feedback we received with the recent physics changes to Begone and Come Hither. We are implementing in this patch some changes that allow players the ability to parry these spells while also decreasing their magnitude. Anytime we make changes as a development team like this that can affect in-game mechanics or combat itself we will always closely monitor player feedback and see where adjustments, if any, need to be made. Your feedback is being read and brought into our internal discussions, so if you feel you have valuable insight or ideas to provide on recent changes made we strongly encourage that you do!
Today we have another patch for you that includes some bug fixes, newly implemented icons for crafting stations and the bank, and our new mechanic Imbued Gems.
Patch Notes - October 21st, 2016:
Halloween items enabled which include the Pumpkin, Broom, and Skeleton Hand
Players no longer can drink Nectar of the Gods potions while buffed or debuffed
Scribing now levels the skill Industry
Players can no longer read on a mount
Weapon books now raise the appropriate attributes as well
Papyrus has a new model
Sithra sub-skills can now be bought and scrolls can be crafted
Increased gold rewards on all starter quests in starter areas
Crafting stations can now be seen on the minimap with icons!
Reduced magnitude on begone and come hither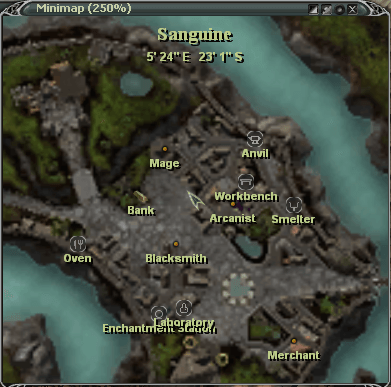 New Mechanic- Imbued Gems:
Included in today's patch is our new "Imbued Gems" mechanic that the team is very excited about. Players will be able to take any gem found out in the world, imbue them with magical enchants at Enchanting Stations, and then transfer the enchant of the gem to any piece of equipment players currently can enchant. This means that instead having to enchant gear and weapons, players can craft, buy and/or sell imbued gems instead. This opens up more freedom to the player as well as a new market of items entering the economy.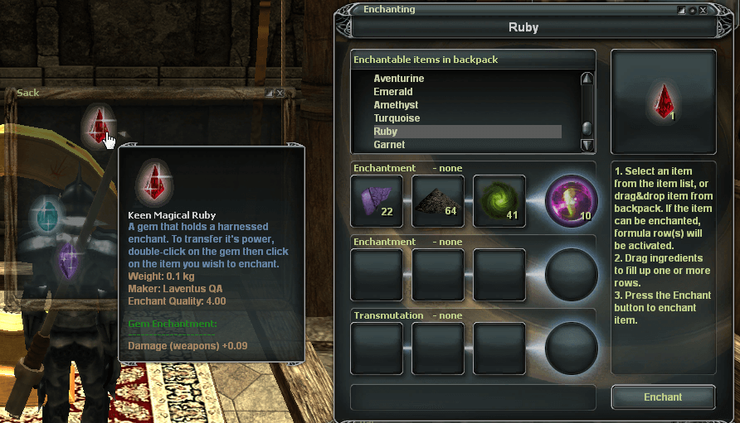 Here are a few more details for you to peruse:
Gem Rank - Each gem has a certain quality of enchant that it can hold up to seen below:
Sapphire - up to Q5 
Diamond - up to Q5
Emerald - up to Q4
Ruby - up to Q4
Amethyst - up to Q3
Aventurine - up to Q3
Crystal - up to Q2
Turquoise - up to Q2
Garnet - up to Q1
Using Imbued Gems - In order to use a gem that has been enchanted, simply double-click on the gem you want to use and then click on the item you want to enchant, it's that simple!
Thank you for reading today's patch notes and we look forward to your feedback. Make sure to join us in the discussion!
Sincerely,
- The Team at Big Picture Games