Hi everyone,
The team is very excited to announce the release of our Official Roadmap webpage on the Darkfall: Rise of Agon website.
We had two primary goals when designing and coming up with this page: (1) present our community with a dynamic roadmap people can reference to keep up with game development and (2) provide a way for members of our community to vote on specific tasks they deem take development priority so we can reference that information in our decision making processes.
Read for an overview of the new roadmap page along with the details on how you can vote - we look forward to your feedback!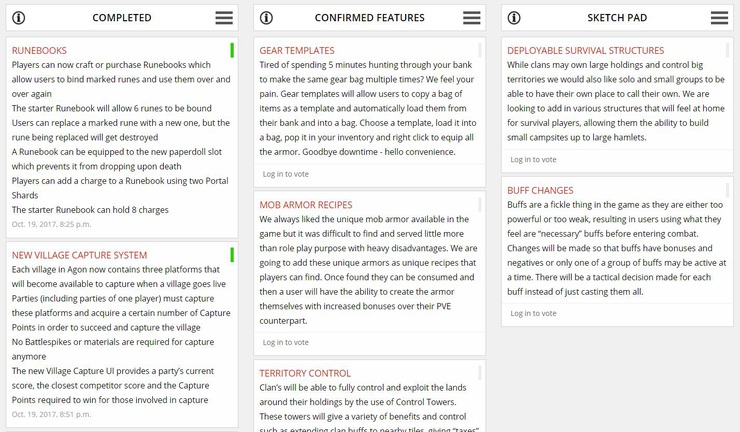 Roadmap Overview
The new roadmap webpage is where players will be able to find and follow the status of development tasks the team is working on. The page is broken into three sections: Completed, Confirmed Features, and Sketch Pad. The following is a breakdown of each of these sections:
Completed
This section includes game features that are currently found on the live game. We have launched the page with the tasks that are arriving in our next patch put into this section and will be going back to add in key tasks that have been implemented since development began.
Confirmed Features
Here is where you will find development tasks that we have confirmed will be getting implemented. When a task is in development it will be broken down into multiple "fragments" that players can track to see how far in development the task is. When specific fragments get completed they will be shown with a Green tag, and if the fragment is in development it will be shown with a Yellow tag. Once a task is completed and patched into the game it will be moved over to the Completed section.
Sketch Patch
Tasks that are in consideration for development will be put into this section. Based on community feedback and development consideration, these tasks will either get a more concrete game design and be moved into Confirmed Features or will be removed entirely from the roadmap.
Community Voting
It was very important to us when designing this page to provide a way for us to get feedback on what our community deems should take development priority. This new webpage now allows members of our community, even if they are not currently playing and do not have an active account, the ability to vote on individual tasks to provide us with invaluable insight into our community.
Voting Overview
Players can vote on what development tasks in the Confirmed Features or Sketch Pad phase they deem take priority. Each player has 10 points that they can distribute among any combination of tasks, including placing all (or some) on a single one. Points used in voting are reimbursed and can be used to vote again. This occurs after a task moves to the Completed stage or, if in the Sketch Pad phase, is removed from the roadmap.
Eligible Accounts
Any account that has had 30 or more days of active game time since launch, including those who have used Game Time Tokens, will have 10 points to vote with.
Disclaimer
Votes cannot be changed after they are cast, and the points used will only be reimbursed after the task is Completed or removed completely from the roadmap. We recommend reading through the entirety of the roadmap page before casting your votes, as each task is in no particular order.
Thank you for reading and make sure to go cast your votes!
Sincerely,
- The Team at Big Picture Games