Greetings Agonians,
We have a quick update for you today to let everyone know that we have officially released our Game Time Tokens and the Ember Fireworks in the Online Store.
Game Time Tokens
You can now purchase Game Time Tokens in the store which are items that can be used in-game to grant the player 30 days of active game time to their accounts. These tokens will arrive in your Deliveries tab in-game (see below) and when you click "Receive" to retrieve them, the item will be transferred to your bank. Please note that these items drop on death and are tradeable.
Cost: 100 Nithron coins
Game Time: 30 days of game time

Ember Fireworks
Today we also are releasing the Ember Fireworks (known in-game as the Ember skies hand-grande) which are consumable items that when throw explode into a colorful blast! These items inflict minor Impact damage so beware of using them in NPC cities.
Cost: 10 / 50 Nithron coins
Fireworks: 40 / 250 (25% bonus) Fireworks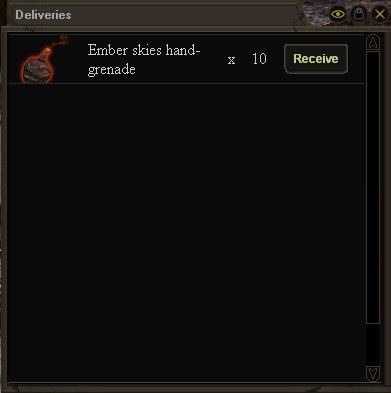 Thank you for reading and keep an eye out for future items that we will implement!
Sincerely,
- The Team at Big Picture Games