Hi everyone,
Today we wanted to give an update as to how our Closed Beta has been going and provide you all with some numbers. We also will be opening up our "Design Discussion" section of the Development Forums where we have two threads we will be creating to gather some feedback on things currently being worked on. Finally we will be presenting our recent Giveaway winners, and giving a sneak preview of our upcoming community competition.
Closed Beta Update:
First of all, the entire team would like to thank all of you who helped test out the game during our free Closed Beta period. You helped us uncover a lot of initial problems that we were able to address, and we have received a lot of bug and exploit reports that we are in the process of working through. We know you all want this game to succeed as much as we do, and reporting these things to us so we can take care of them will help accomplish that.
Over the past couple of weeks we have seen consistent growth in the active population of the game, with over three thousand characters made. Yesterday after server maintenance we ended the free trial period, which means that at least a Supporter Pack is required to gain access to the remainder of Closed Beta. Despite this being the case, we have only seen an 18% reduction in active players. With a lot of changes in the pipeline addressing some key areas of the game, and more exciting things to come in the future, we hope to see more people getting involved with our early development.
To those of you that have purchased a Founder Pack, we cannot thank you enough for the support. The money that is being raised through these Founder Packs goes directly to our monthly hardware and software costs, our licensing costs and other tools that we utilize to increase our efficiency as a team. Your support allows us to keep the lights on and continue working to make the game better each and every patch. As an independent game studio our community is our lifeblood, and we will continue to work as hard as we can to earn your support.
Design Discussion:
As promised, we will be utilizing our Development Forums to go into more detail and gather feedback on design topics either currently in development or in the design phase. We will be presenting these design topics in a new section of our Development Forums titled, "Design Discussion". Only team members at Big Picture Games will be able to make threads so that we can keep track of all of the feedback we receive and to make it easier for us to interact with you. Anyone can view these forums, similar to how it is now, but only those with a Founder Pack will be able to post and provide their feedback.
That being said, not everything we work on will be discussed in this section of the forums. Its primary purpose is to gather feedback on topics that may be controversial or ones that we would like to hear your thoughts on.
The first two topics being presented today are our Initial Alignment Changes and Anti-Griefing Measures, and we look forward to your feedback and thoughts.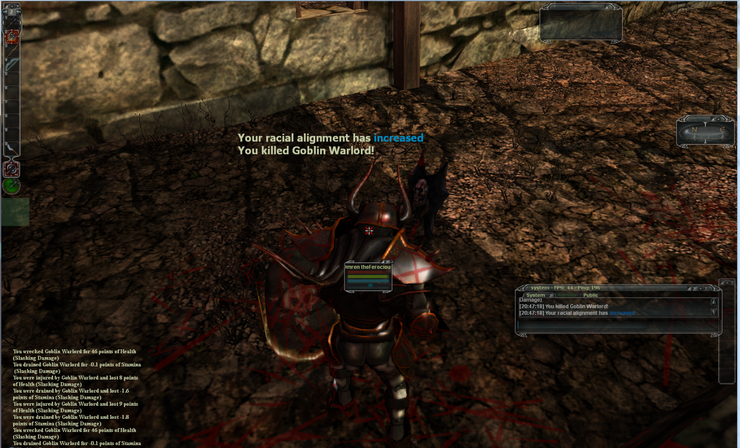 Giveaway Winners:
We ran our first Darkfall: Rise of Agon giveaway that ended this past Friday, and we received close to a thousand entries. We would like to congratulate the following ten people who won a Supporter Pack and thank all of you who entered during the giveaway period. There are more giveaways like this we plan to run, so keep your eyes peeled for future announcements on them.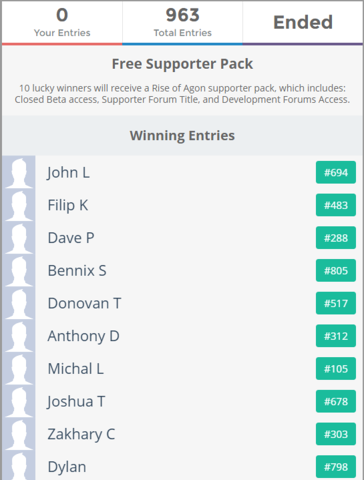 Conclusion:
The team is hard at work right now on our next patch and we hope to have it out in the next couple of days. As we gain a better understanding of the intricacies in the code, it unlocks our ability to focus on other projects, such as the recent hamlet world-building changes. With our developers becoming more and more familiarized with the codebase, we can begin working on more in-depth changes and mechanics which you will see some mention of in today's Design Discussion threads.
Before we end this update, we wanted to let you know that we will be presenting our second Community Competition in the next few weeks. We strongly recommend that you begin recording footage in-game if you have not already, as there may be a couple lifetime subscriptions up for grabs
Thank you all for reading and join us in the discussion.
Sincerely,
- The Team at Big Picture Games